Ingredients
2.5kg shoulder of lamb

3 stems of fresh rosemary, leaves removed in small sprigs

5 cloves garlic – peeled and thinly sliced lengthways

For the marinade
2 large garlic cloves, crushed

1 medium size red chilli deseeded and finely chopped

2 fresh rosemary sprigs, leaves removed and finely chopped

1 tablespoon of fresh thyme leaves

1 teaspoon fennel seeds, finely ground in a pestle and mortar

Zest and juice of 1 lemon

6 grinds of freshly ground black pepper

6 tbs olive oil

For the pan
4 sprigs fresh rosemary

250g red wine

For the gravy
2 heaped tablespoons redcurrant jelly

450ml chicken stock

3 sprigs of mint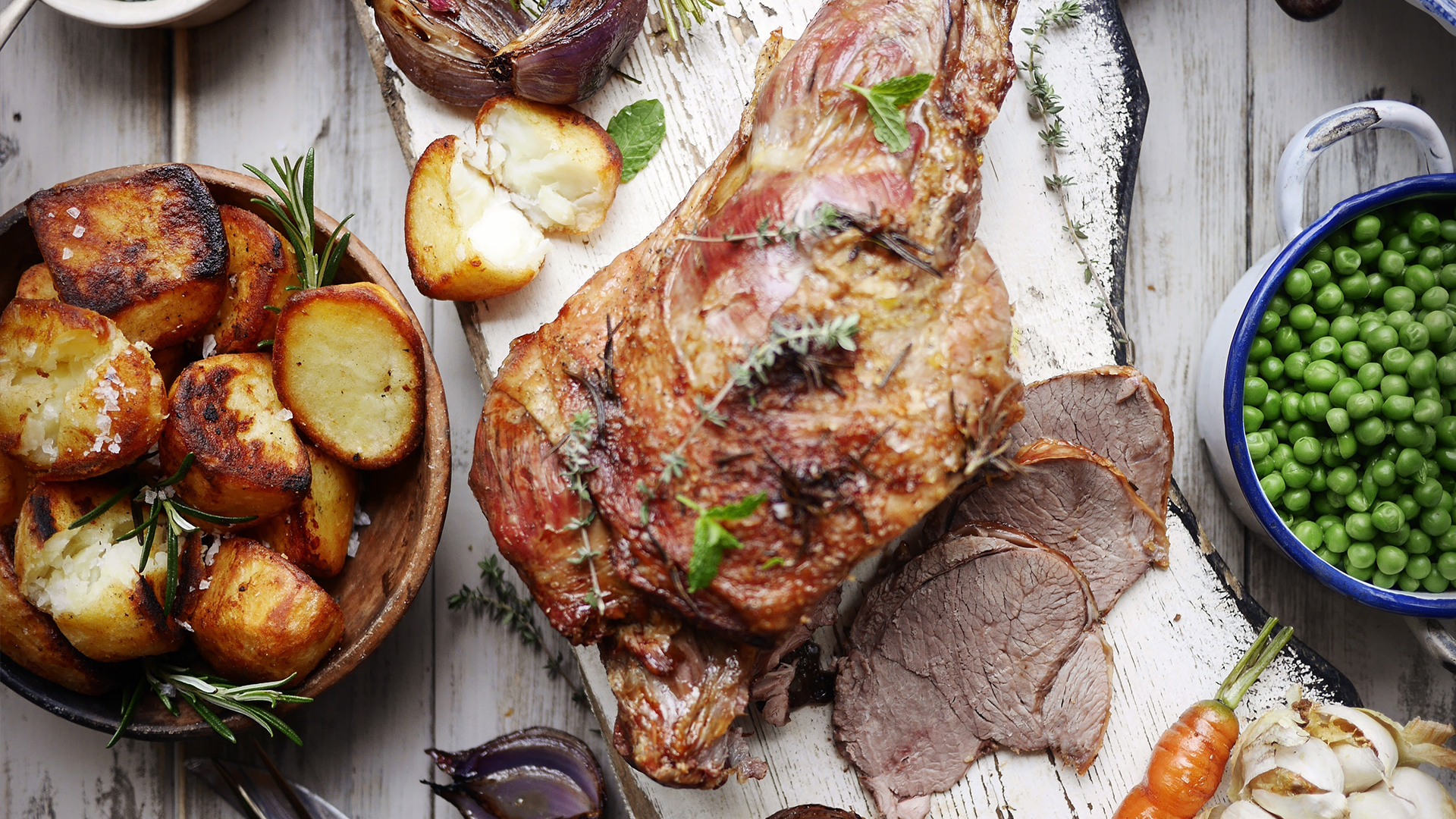 Method
Prep 24 hours before, 6 hours cooking
8-10
4-24 hours before you plan to serve the lamb, make deep vertical incisions every 5cm across the skin of the lamb, with a small sharp pointed kitchen knife.


Stuff a slice of garlic and a sprig of rosemary deep into each incision.


Place all the marinade ingredients in a food processor and whizz until smooth.


Place the four stems of rosemary in the centre of a deep roasting tray and place the prepared lamb on top. Spoon and spread the marinade over the lamb until evenly coated then cover with cling film. Place in the fridge over night or for at least 4 hours.


6 hours before you plan to eat, preheat the oven to 220'C and remove the marinated lamb from the fridge, remove the cling film, season with sea salt and roast for 25 minutes or until the lamb is lightly browned.


Remove the lamb from the oven and reduce the oven temperature to 160C.


Pour over the wine. Take a large piece of greaseproof paper, crumple and wet under a cold tap then open and out and place loosely over the lamb. Cover the roasting tin with foil, making sure it is tightly fitted over the tin edges to seal in the steam. Return the lamb to the oven to bake for 5 hours, adding a splash of water to the roasting dish if necessary, half way through the cooking time.


Remove the lamb from the oven, and leave to stand under foil for 30 minutes.


Turn the oven up to 200'C. Bake the prepared potatoes for 45 minutes or until golden and tender, turning over half way through cooking.


Shortly before serving, remove the lamb from the tin and slice or pull apart in thick chunks. Place the meat in an oven proof dish and keep warm while you make the gravy.


To make the gravy: Pour the pan juices into a bowl and lift off the fat with a large spoon. Pour the defatted juices back into the roasting dish and over a medium heat, loosen any browned lamb from the tin. Add a heaped tablespoon of redcurrant jelly to the pan, along with the stock and mint sprigs. Bring to the boil and simmer until the gravy is reduced by half. Keep warm.