Ingredients
Sunflower or corn oil

1 kg/ 2 ¼ lbs chicken thigh fillet, cut into thick slices

Salt and freshly ground black pepper

570ml/ 1 pint Chicken Stock or water

2 large onions, finely diced

2 red peppers, cut into strips

6 garlic loaves

5cm/ 2in root ginger, finely chopped

3-5 fresh chillies, deseeded and finely diced

1 tsp turmeric

3 bay leaves

3 tsp ground coriander

3 tsp cumin seeds

6 tsp paprika

400g can chopped tomatoes

Stems from 1 bunch coriander, finely sliced

1 tsp sugar

2 tsp Garam Masala – check label for wheat

1 bunch coriander leaves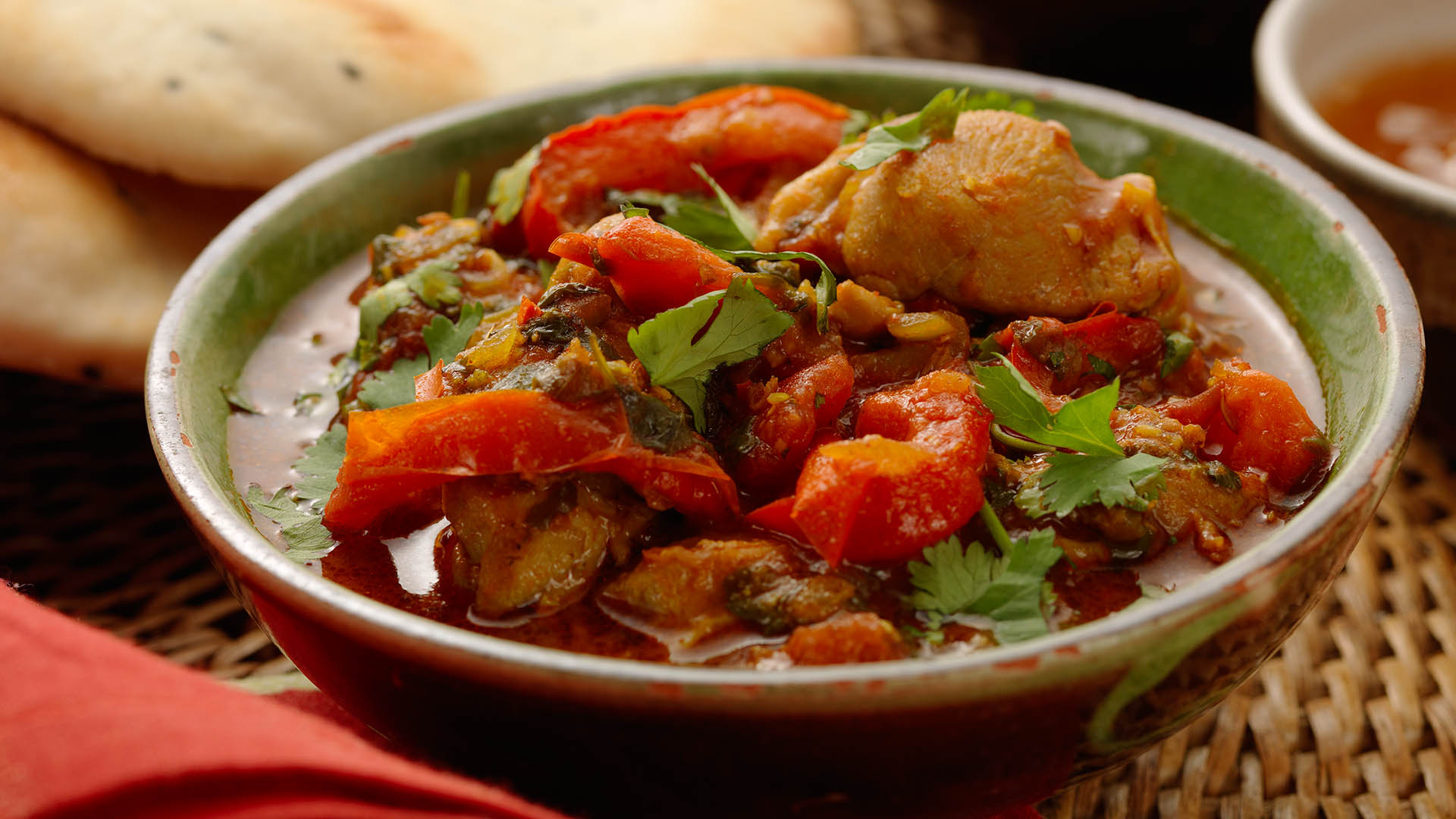 Method
30 mins prep, 2 hours cooking
Serves 4
Preheat the oven to 150c/ 300f/ gas mark 2


Heat 1 tablespoon of oil in a large casserole over a moderate heat until hot. Add a handful of the chicken to the pan, season and leave to stick to the base of the pan to brown. Turn and brown the other side only when the meat releases itself from the bottom on the pan.


Repeat this process until all the chicken is cooked, loosening the browned cooking juices on the base of the pan between batches with a splash of stock or water. Add this to the browned meat. Add a little oil to the pan between batches.


Season and fry the onions and peppers in 1 tbsp of oil until golden brown. Add the garlic, ginger, chilli, turmeric, cumin, ground coriander and paprika and gently fry for 30 seconds. Return the meat and the cooking juices to the pan. Over a low heat, stir the cooked tomatoes, coriander stems and sugar, top up with stock or water so the meat is covered. Cover with a lid and bring to the boil.


Remove the lid and skim off any fat or scum on the surface. Replace the lid and cook the curry in the oven for 1 ½ hours, or until a piece of chicken can be cut easily with a fork. Remove the curry from the oven every 30 minutes to skim off any fat and add water as necessary, so that the meat is just covered.


When the meat is cooked, stir in the Garam Masala, taste the sauce and season as necessary. Spoon onto warm plates and sprinkle with chopped coriander leaves.